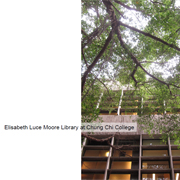 Chung Chi College Elisabeth Luce Moore Library (CCL) is one of the busiest libraries on campus. Its convenient location close to the MTR and on the lower campus has resulted in just over half a million visits per year. This figure is very stable, not showing a decline despite the opening of the WMY Learning Commons and the Pommerenke Student Centre nearby in 2011.
The 2014 Library survey highlighted a level of dissatisfaction with current facilities at CCL. Specifically there was a demand for additional study space, computers and printing facilities. Given this challenging situation, the Library refurbished CCL ground floor during summer 2017 providing a new learning cluster with more study space, more computers and a new RFID self-issue and return service.
The existing CCL collections focus on education, sports science, religion, music, performing arts and theatre. All subject areas where print collection growth is still strong.
2. Refurbishment Projects - Second Floor (Summer 2019)
Following the successful ground floor and first floor renovations, the second floor will be refurbished and include a purpose built Music Library in summer 2019. More details will be provided as the planning progresses.
For updates on the refurbishment project and the collection relocation, please visit our web page or see our CCL Blog and follow us on twitter.
Tel: (852) 3943 6969
e-mail: ccl@lib.cuhk.edu.hk