We collaborate with faculty members, researchers and postgraduates in supporting and delivering digital scholarship research projects. The support covers the entire research life cycle and details are available in our services page. Welcome to contact us by email to kittysiu@lib.cuhk.edu.hk / dslab@lib.cuhk.edu.hk or fill in the Research Consultation Form.
The following is our current digital scholarship research project: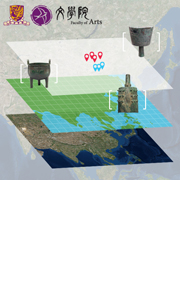 GIS Mapping and Archaeology of Early China
This collaborative Digital Scholarship Research project between Prof. Celine Lai of Faculty of Arts and the Library is to make use of GIS to display information on unearthed Nao in the early Bronze Age China on digital maps of China so that the archaeological data is translated into a lively visual form. The archaeological data were collected by Prof Lai as part of her doctoral research from published archaeological sites of the Shang period (c1500-c1050) between 2005 and 2009. They include sites in the major activity areas of the Shang people, as well as sites with bronzes discovered in different provinces along the Yangtze River. An online database of maps and summary of findings including the following information is available openly to interested scholars, institutions and organizations.
locations and geographical coordinates of the archaeological sites
information on the unearthed nao
original description of the location and nao in published references
referenced sources
Launch date: To be confirmed