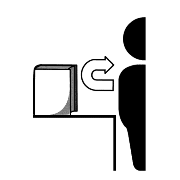 Renewing items allows you to extend the original loan period for an item already checked out by you. Overdue items may also be renewed. The overdue fine will be charged to your account and can be settled when you come to the Library. Once the limit of renewal is reached, however, the item must be returned before it can be checked out again.
What can be renewed and what are the renewal limits?
Books
Books on loan may be renewed up to 5 times if they are not requested by other users.
Multimedia materials
Only the following categories of users are eligible to renew multimedia materials for up to 2 times.
Undergraduate students
Postgraduate students
Research staff
Teaching staff (Terms A)
Teaching staff (Terms B)
Administrative staff (Terms A)
Emeritus Professors
How to renew an item
Renewal can be done online or in person at the Service Counter. Renewing items online is easy and quick, simply follow the steps below:
Logon to your " My Library Record " at the Library Homepage;
Click " _ Items currently checked out ";
Select the item(s) to be renewed and click " RENEW SELECTED ITEMS " or " RENEW ALL " to renew all checked out items;
Click " Yes " to confirm the renewal;
A new due date will be displayed next to the item's old due date if the renewal is successful. A message " Not all renewals were successful. Please see details below " will be displayed if renewal is not successful.
To protect your personal information, click " LOG OUT " after viewing your library record.