Artist: MAK, Kit Jing Vivian
Date: 6 – 17 January, 2020
Venue: New Asia College Ch'ien Mu Library
Statement:
My paintings: Absorbing from the essence of Chinese ancient literati painting, works are developed in both meticulous and impressionistic painting ranging from ancient natural landscapes, flowers-and-birds to figures, in the Tang, Song, Yuan, Ming and Qing Dynasties, together with paintings of Dunhuang murals from the Sixteen Kingdoms, Northern Wei, Sui and Tang, Five Dynasties, Song, Xixia and Yuan Dynasties. My calligraphy: A creation of academic and composition. While the art of calligraphy begins with the ancient works and rubbings from calligraphers of different dynasties. The highest art spirit of poetry, paintings and seal concludes: As the saying goes, "Good poetries deliver delicate and vivid illustrations, good paintings express poetic meaning to readers." A seal contains the cultural legacy of thousands of years, so whenever a masterpiece is created, artists pay attention to the position of the seal, which could bring a crucial touch of enrichment to the work.
Ms. Vivian Mak has devoted herself to education for nearly 30 years. She graduated from the Department of Chinese Language and Literature of the Hong Kong Baptist University and starts her teaching of Chinese language in high schools. Witnessing that most of the students' problems were caused by broken family relationships and the lack of parent education, she completed her study in the Master of Arts in Parental Education at the Chinese University of Hong Kong in 2009, to further facilitate her teaching. Ms. Mak's on-going interest in the art of Chinese calligraphy and painting has nurtured since she was young. During her college years, excellent results were achieved in the courses of Chinese paintings. After resigning from her full-time teaching recently, she is now focusing on the study of Chinese calligraphy and painting art and being grateful for the guidance of different professors from the Department of Art of the Chinese University of Hong Kong, which helps in her pursuit of the ancient Chinese art. In the journey of academic researching and calligraphy and painting creation, she aims to master the ancient style so as to accomplish a higher level of knowledge, moral and arts.
Poster:

Art Works: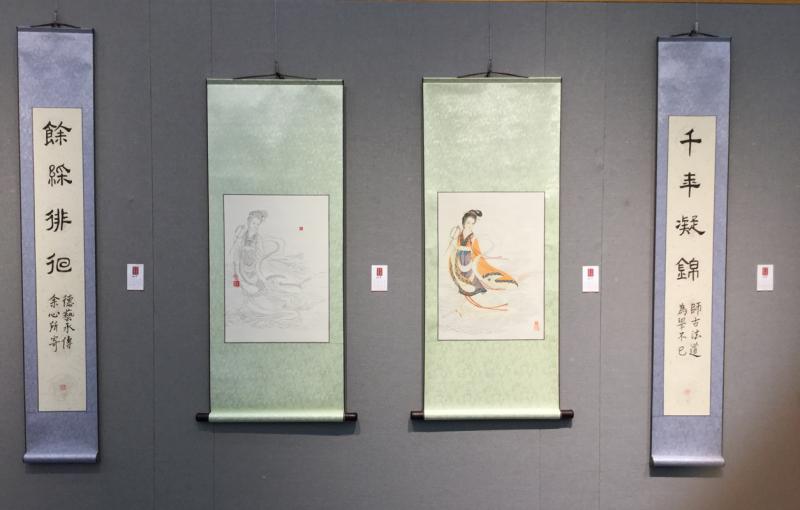 More photos are available in New Asia College Library Exhibitions LibGuides.