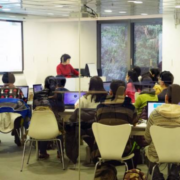 Introduction Video to CUHK Library
|
Request Orientation
The Library offers orientation sessions for undergraduate and postgraduate students in the beginning of the academic year to introduce the library services and facilities. The 2018 Undergraduate and Postgraduate Orientation have been completed. Please refer to information on the ongoing workshops offered by the Library.
Introduction Video to CUHK Library
This video introduces the services, facilities and collections of CUHK Library. Watch the video to know more about your library and its services in 3 minutes.
For more Information, please visit the following webpages:
The library has developed these self-learning tools to encourage and support students to learn research skills at their own pace.
Request a Library Orientation Session
Faculty members, course instructors and students in groups may request orientation sessions for a particular subject area. Please contact Learning Support (for undergraduate orientation) or Research Services (for postgraduate orientation) for details.