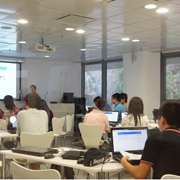 The Library offers a wide variety of workshops and seminars to assist both undergraduate and postgraduate students to maximize life-long learning outcomes, support faculty and researchers in developing information sources management techniques, and facilitate the university community as a whole to engage in scholarly communication activities. These workshops and seminars are held throughout the academic year, and topics range from introducing fundamental library research skills to the use of the latest data management tools. Users may also request workshops on the use of library resources in their subject areas.
Postgraduate, Researcher and Faculty Workshops
Workshops and talks on literature review, strategies for publishing in academic journals, research alert, citation management, researcher identifier creating and research impact showcasing are provided during the academic year. Attendance proof may be issued on request. In addition, discussion workshops for postgraduate studies, including successful presentations and thesis writing tips, and the Research Café are also organized.
New Trends and Indicators of Research Impact and Engagement
A seminar on new tools for evaluating research impact will be co-organized by the Library and ORKTS. It will cover the current landscape of impact evaluation, research communication, and introduce the Altmetric Explorer and Altmetric Attention Score which provide metrics of other research impact beyond traditional citation-based one. CUHK researchers and postgraduate students are all welcome to join.
Topics

Date

Time

Language

Speaker

Registration

The seminar will cover:

What are altmetrics and how to use them?
What are the advantages, limitations, and issues of using altmetrics?
What are the benefits for researchers and institutions?
Demonstration on Altmetric.

6 Jun
(Wed)
10:30 a.m. –
12:00 noon
English
Ms. Kathy Christian,
CEO of Altmetric

Venue: Digital Scholarship Lab, G/F, University Library

Enquiries: Email to research@lib.cuhk.edu.hk
Improving Postgraduate Learning (IPL) Courses offered by Library
Observing Intellectual Property and Copyright Law during Research

Course

Date

Time

Venue

Observing Intellectual Property and Copyright Law during Research
On-line course available on Blackboard
Compulsory for ALL RESEARCH postgraduate students

Medium of Instruction: English

Details and registration: http://www.cuhk.edu.hk/clear/prodev/ipl.html
Request a Seminar
Course instructors and students in groups may request seminars for a particular subject area or a specific assignment at any time during the year. From the planning stage of a course or research project, Liaison Librarians with different subject backgrounds can work with you to strengthen research skills for gathering and managing scholarly information sources.
Please contact Learning Support (for undergraduate training requirements) or Research Services (for postgraduate training requirements) for details.